Zinc Ultra, Liquid - 8 fl oz (1190)
Starting at US $15.35
Description of Zinc Ultra, Liquid - 8 fl oz
As an essential mineral for life, zinc plays a key role in many important physiological functions as well as providing important immune support.
Liquid Zinc Assay contains liquid zinc as zinc sulfate. This product is made using purified water - not filtered or tap water which may contain impurities that could potentially distort a zinc taste test.
Zinc helps the immune system fight a wide variety of infections. Essential for healthy skin, zinc also helps with quicker healing of burns and wounds and is good for blood and circulation. Zinc is needed by many hormones, and supports a healthy reproductive system. Important for a healthy prostate.*
8 fl oz - 25 mg zinc/tsp.
Try the Zinc Taste Test>

Put a little in your mouth (a tsp. full will do) and swish it around your mouth. The idea is to see how long it takes you to taste the mineral.

Those of us with a deficiency will not be able to taste the zinc - even after swishing it around for over a minute (there's no point in going longer than a minute).

To get zinc levels back to where they should be, use the zinc taste test to guide you.

Take up to 3 tsp. per day until you can taste the mineral. (25mg per tsp.)

You will be shocked when you finally can taste it - it's a very strong, bitter, metallic taste that will show you just how stunted your taste buds really were.

Once your levels are back to normal taper down to a maintenance dose of 25-50mg mg (1-2 tsp.) per day.

As a word of caution, taking more than 100 mg per day can lead to deficiencies in other minerals like copper and iron.
You can assess your levels more specifically using the guide below.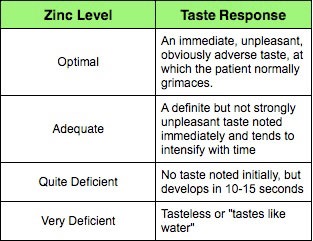 ---
Ingredients in Zinc Ultra, Liquid - 8 fl oz
Serving size 1 Teaspoon (5 mL)
Zinc (Zinc Sulfate Heptahydrate) . . . . . . . . . . . . . . . . 25 mg
Other Ingredients: Purified Water
These statements have not been evaluated by the Food and Drug Administration. This product is not intended to diagnose, treat, cure, or prevent any disease.
The PH Pure Health Co. is licensed to distribute nutritional products manufactured by Premier Nutrition Labs, Austin, TX.